Put a card who gives 1 of AR in the game, like the red bird, with a cost of 3 mana, and the stats 2 AT, 3 PDV, and 4 movement.

The card what i say is this one: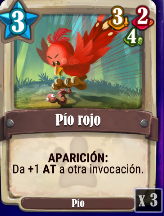 Imaginate all the people..
Using this card. -ATT: John Lenn..Yopuka, John Yopuka.
Score : 1205

Score : 643

Score : 1205

Tristhephin| Yesterday - 16:21:09

Good idea.
That literally is a card in the game
Score : 643

Oh thanks, i dont see her before now.